Peña Adobe Historical Society to join Third Thursday Night Market, September 19, 2019
City of Vacaville Community Services Department and Downtown Vacaville are excited to announce their partnership on a new event series, the 3rd Thursday Night Market!
The Market will take place once-monthly on 3rd Thursdays from May – September (5/16, 6/20, 7/18, 8/15, 9/19) from 5-8:30PM at Andrews Park in Creekwalk Plaza. Admission and parking are free, and the event is family-oriented and pet friendly! Food, beer & wine, along with vendor products will be available for purchase a la carte. Lawn chairs and picnic blankets are encouraged!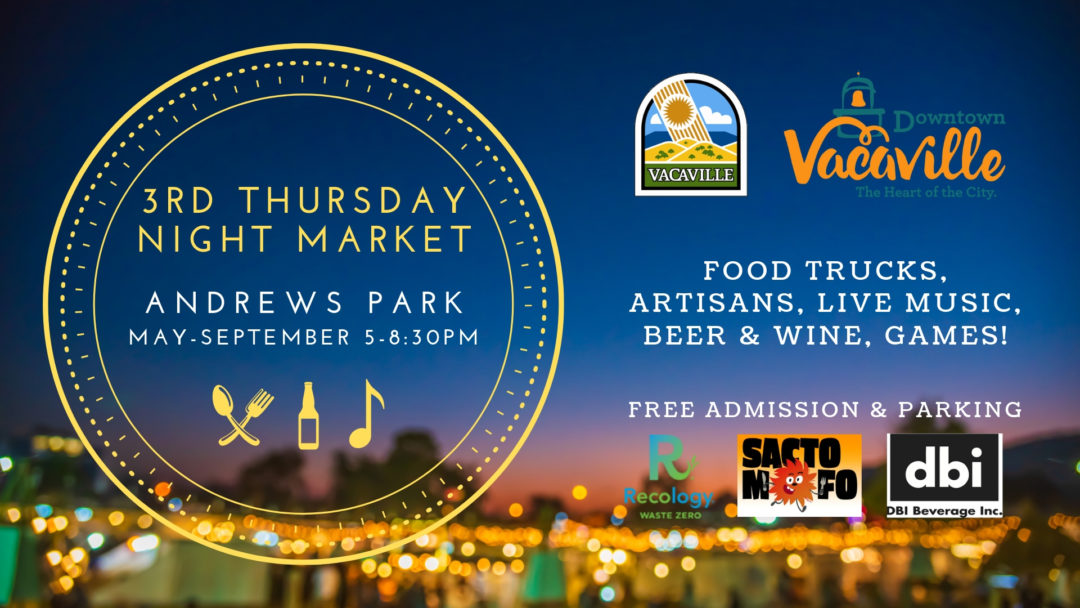 Location:
Creekwalk Plaza
Andrews Park
Downtown Vacaville

DRIVING DIRECTIONS
Contact Info:
707-451-2100
info@DowntownVacaville.com
3rd Thursdays will feature eight gourmet food trucks from SactoMofo, craft beer from Heretic & DBI Beverages, local artisan vendors, live music and lawn games. "It's the evolution of the City's popular Food Truck Mania series" says Downtown Vacaville's Executive Director, Brooke Fox. This FREE admission event aims to create a Summer Food destination where visitors discover new culinary adventures, meet local artisans, and hear original musicians. Experiential activities/games like giant Jenga, Connect 4 and lifesize Pong will be available on the Andrews Park lawn. Great Wonders Playground will also be open for families to enjoy.
The Third Thursday Night Market is sponsored by The City of Vacaville, Downtown Vacaville, DBI Beverages, SactoMofo and Recology.