"Kids Day at the Adobe" Saturday, November 2, 2019
The Peña Adobe Historical Society will host "Kids Day at the Adobe" at the Peña Adobe Park in Vacaville, on Saturday, November 2, 2019 from 11 a.m. to 2 p.m.
Come see the historic Peña Adobe, one of the oldest structures in Solano County. Dating back to 1842, the Adobe was once the home of the Juan Felipe Peña family, who with the Vacas, settled in Vacaville over one hundred seventy five years ago. Stop in the adjacent Mowers-Goheen Museum, and see local artifacts that include Peña family children's toys, ladies dresses from the turn of the century and a woolly mammoth bone!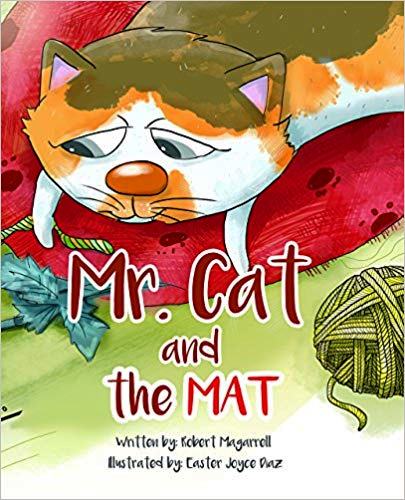 Robert Magarrell's children's book "Mr. Cat and the Mat"
Location:
Peña Adobe Parkis located at 4966 Pena Adobe Road in Vacaville's rural southwest section, just off Interstate 80 to the left of Lagoon Valley Regional Park entrance.

DRIVING DIRECTIONS
Contact Info:
Peña Adobe Historical Society
707-447-0518
Fun activities will include acorn grinding on authentic mortar and pestles, making corn husk dolls, and writing with quill pens & ink. Meet the goats from McQueeney's Goat Ranch! Visit with these naturally curious animals and learn how goats provide a natural and organic way to clear any land of overgrown brush and invasive plants without harming our environment!
Robert Magarrell of Travis Air Force Base is a family man, and kid at heart, who finds joy in the small and simple things in life like playing his harmonica. Sgt. Magarrell's book "Mr. Cat and the Mat" is first in a series of Mr. Cat stories. The focus of his story centers on teaching a valuable life lesson to children with rhyme and humor. It's a fun book for kids to read with wonderful illustrations by Easter Joyce Diaz. Magarrell will be conducting readings and signing copies of his book during the "Kids Day" event.
Bring a picnic lunch, test your skill at the horseshoe pits, stroll the historic grounds, enjoy cookies and treats and don't forget to have your face painted!