Vacaville's current Air Quality Index value represents potential health impacts, as such our scheduled event must be cancelled. Thank you for your interest in Peña Adobe and we hope to see you at future events.
The Peña Adobe Historical Society welcomes Solano County Sheriff's Posse on Saturday, August 4, 2018 from 11 am to 2 pm! The park is located at Peña Adobe Road off of Interstate 80 to the left of the Lagoon Valley Regional Park entrance.
The Solano County Sheriff's Posse has enjoyed a long-standing tradition of service with the Sheriff's Office since 1947. Comprised of citizens who volunteer their time in the service of their community, each year members of the Sheriff's Posse contribute thousands of hours of their time, the use of their horses and their equipment in support of the Sheriff's Office. Members of the Sheriff's Posse attend numerous community events each year as ambassadors for the Sheriff and as an example of how beneficial partnerships with the community can be for law enforcement. Come to the Adobe and see their amazing horses and meet the members of the Sheriff's Posse!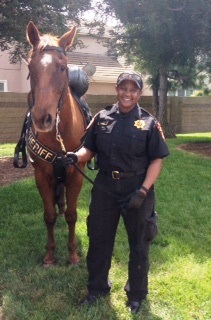 Location:
The Peña Adobe Park is located in Vacaville's rural southwest section, just off Interstate 80 adjacent to Lagoon Valley Park
Contact Info:
Peña Adobe Historical Society
(707) 447-0518
Learn the important role horses played when the Peña and Vaca families were raising cattle on their ranch on what was to become the city of Vacaville.
Park docents will be available to lead tours the Peña Adobe, California historical landmark #534 and built by the Peña family in 1842. Stop in the adjacent Mowers-Goheen Museum and view a woolly mammoth bone, period clothing and local artifacts found during the Peña Adobe restoration.
This event is free, there is no admission charge for the historic Peña Adobe Park or entrance fee to the Adobe or Museum. Dogs are allowed on leashes.