Museum Board of Director, John Krauskopf, will chat with park visitors about the over 50 historic cars on display, and the 22 miles of track at the Western Railway Museum located at 5848 State Highway 12 in Suisun City. Volunteers from the Association operate authentic, restored trains every day the museum is open. They currently offer two different train ride experiences. Your admission ticket to the Museum is good all day, and you can ride as many times as you like. The Museum features historic railway exhibits, vintage streetcar and interurban train rides, a large shaded picnic grounds, the Museum Store, library archives, and Depot Cafe.
In 1946, a group of individuals learned an old Oakland streetcar was to be scrapped. They gathered together enough money to buy the car. In this spirit of philanthropy and historic preservation, the Bay Area Electric Railroad Association was created to foster interest in streetcars and mainline electric railroad operations. In 1985, the name "Western Railway Museum" was officially adopted.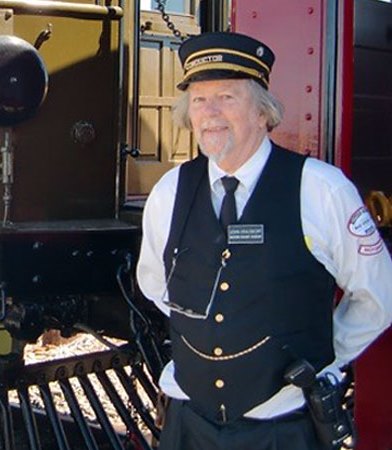 Location:
The Peña Adobe Park is located in Vacaville's rural southwest section, just off Interstate 80 adjacent to Lagoon Valley Park.
Contact Info:
Peña Adobe Historical Society
(707) 447-0518
Come to Peña Adobe and meet Krauskopf and learn about the Key System. A system with roots that go back to 1893, composed of corporations which operated ferry boats to San Francisco, connecting electric trains, and streetcars in the East Bay. The Western Railway Museum has the largest collection of surviving Key System equipment.
Listen to John speak of the very first municipally owned and operated transit system in a large city in the United State, the Municipal Railway in San Francisco. Today, the San Francisco Municipal Railway (MUNI) is the public transit system for the city and county of San Francisco. The Western Railway Museum's collection of MUNI equipment includes cars built from 1901 to 1978.
Bring a camera and binoculars as wildlife is often spotted in the park. Hike to the pioneer graves or take advantage of the picnic tables and bring a lunch. Docents will be on hand to conduct tours of the Peña Adobe, California Historical Landmark #534, built by the Peña family in 1842 and answer questions about the Peña family, who together with the Vaca family, for whom the City of Vacaville is named, settled here.