Greg Schwei Visits Peña Adobe as Willis Jepson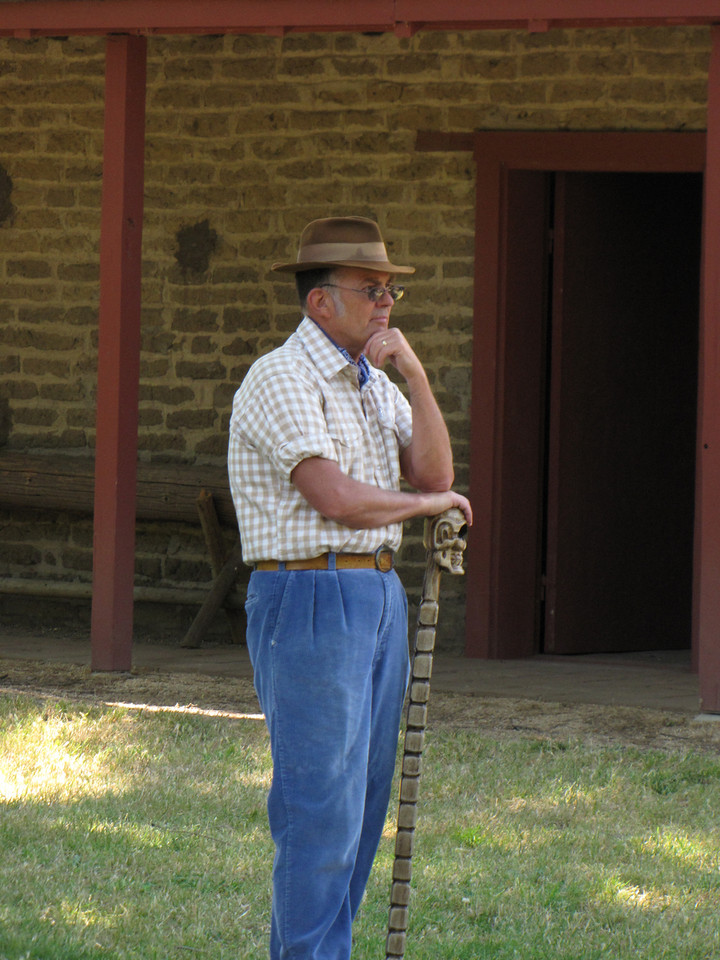 Greg Schwei as Willis Jepson
The Peña Adobe Historical Society hosted their monthly Open House at the Peña Adobe Park in Vacaville, on Saturday, November 4, 2017 from 11 a.m. to 2 p.m. The park is located at Peña Adobe Road just off of Interstate 80.
Visitors joined the Peña Adobe Historical Society for nature walks led by Greg Schwei portraying California's most distinguished early botanist, Willis Linn Jepson. Jepson was born near Vacaville in 1867. His mother's home at 125 Main Street in Vacaville dates back to 1914. Jepson became the first PhD from Vacaville in 1899 when he received a doctoral degree in botany from the University of California. He served on the faculty at Berkeley for over 40 years.
While at the University of California he was made assistant professor in 1899, associate professor in 1911, professor in 1918, and professor emeritus in 1937. The author of several books and president of the California Botanical Society, from 1913-1915 and again from 1918-1929; and charter member of the Sierra Club in 1892; met visitors at the entrance to the Peña Adobe for two nature walks at 12:15 and 1:15.
Joining Schwei were members of the Willis Linn Jepson Chapter of the California Native Plant Society. The Plant Society serves Solano County. Their mission is to conserve California native plants and their natural habitats, and increase understanding, appreciation, and horticultural use of native plants. Rebecca Mannion, Past President of the Willis Linn Jepson Chapter spoke with visitors about seed collection, storage and propagation techniques for California Native Plants.
Also on hand were volunteers from the Jepson Prairie Preserve. Located south of Dixon, Jepson Prairie is the premier, and one of the few remaining, vernal pool habitats and native bunchgrass prairies in California. Docents talked about the self-guided trail area of this National Natural Landmark, the colorful flower displays, animals of the preserve and their popular weekend public tours of the Jepson Prairie Preserve conducted during the spring.