Peña Adobe Display at the City of Vacaville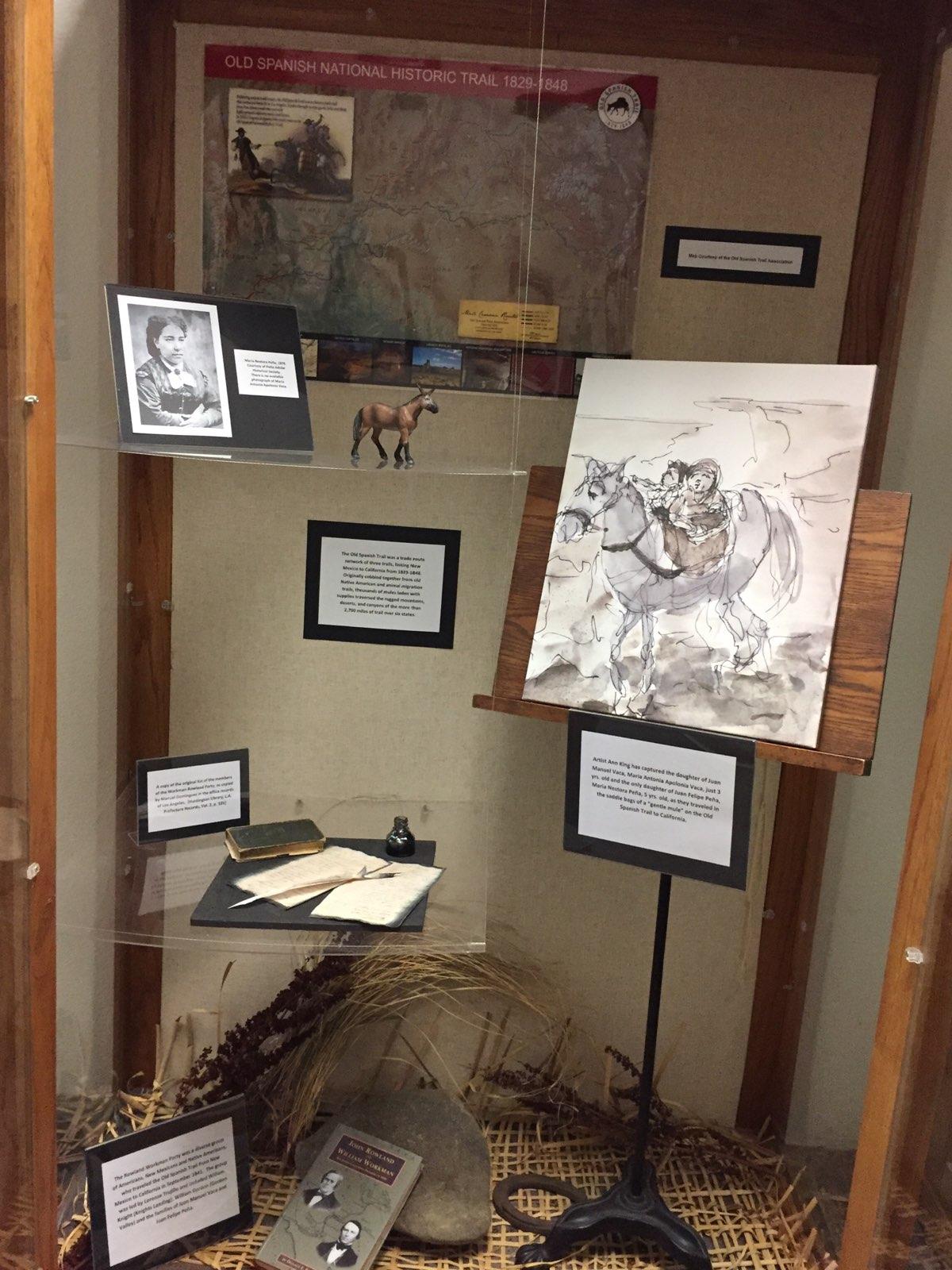 Old Spanish Trail History Now Displayed at Vacaville City Hall
The City of Vacaville contacted the Peña Adobe Historical Society to update a display in two oak cabinets at the Vacaville City Hall. Working with Sheila Ernst, Deputy City Clerk, the city requested the exhibit include local history.
The Vaca and Peña families came over the Old Spanish Trail in 1841 with the Rowland-Workman Party and then traveled northward to claim their northern California lands here in the Laguna Valley. Up until 18 months ago, this part of the Peña family history was rarely shared at the Peña Adobe and this was a good opportunity to reach out and share the story of their journey.
Volunteers Cecelia Peña, Jess Hayden, Heather Warner and Cricket Kanouff set about coming up with a display based on the City of Vacaville's request. They used the local chapter of the Old Spanish Trail Association materials, artifacts from the Peña Adobe, and Jess' photography skills to create a display that celebrates the history of Vacaville in the mid 1800's.
The project began on January 15 and was completed on March 10. Cabinet one focuses on the Old Spanish Trail and the journey the Peña and Vaca families took to reach the Laguna Valley. The centerpiece of the cabinet is Ann King's painting (commissioned for the 2017 Old Spanish Trail Association Conference) of the youngest Peña and Vaca family members traveling by mule on the trail and a brief history of the Rowland-Workman Party led by Lorenzo Trujillo. Cabinet two takes us to the Peña Adobe with a brief history of the original land grant and photos of Juan Felipe Peña, Isabella Peña, Juan Manuel Vaca and the Adobe in the 1880's and present day.
The cabinets are around the corner from where you pay your water bill. Vacaville City Hall, 650 Merchant St., Vacaville, CA. Hours, 8:30-5 M-F.