Peña Adobe Hosts "Artists at the Adobe"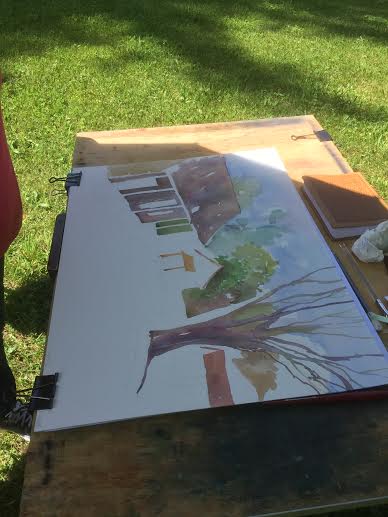 Artist Sandy Imperatori"s painting at Peña Adobe Park
Over 100 visitors attended the Peña Adobe Historical Society's "Artists at the Adobe" at the Peña Adobe Park in Vacaville, on Saturday, April 1, 2017.
Fairfield's Sandy Imperatori and members from art workshops she has conducted in Rancho Solano and Vacaville were all painting at Peña Adobe Park. Sandy studied BFA Graphic Design at Carnegie Mellon University and has conducted the Plein Air Workshop in Virginia City, Nevada for over 20 years.
The former Gallery Director of the Fairfield Visual Arts Association, Sandy began drawing and painting as a young child, and has been painting watercolor for 25 years, which has led to several awards. Visitors brought their art supplies and joined the fun, some brought picnics and enjoyed the scenery.
Docents where on hand to answer questions and conduct tours of the Peña Adobe, built in 1842 by the Peña family and the adjacent Mowers-Goheen Museum.