Peña Adobe Welcomes "Rosie the Riveters" the SS Jeremiah O'Brian and the National Armory Museum!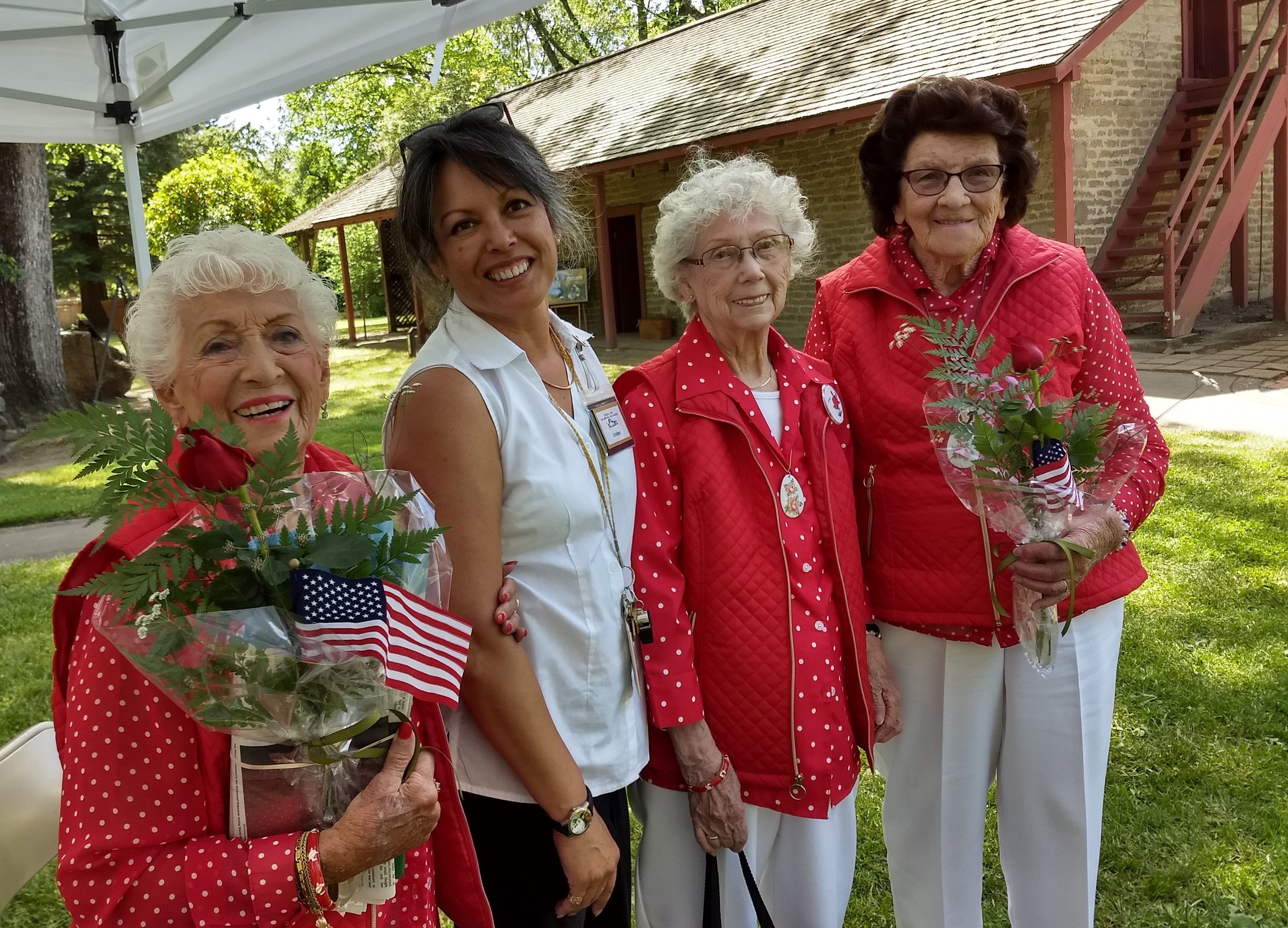 "Rosies" Kay Morrison, Marian Sousa and Marian Wynn at Peña Adobe
The Peña Adobe Historical Society hosted members from the Rosie the Riveter WWII Home Front National Historical Park at the Peña Adobe Park in Vacaville, on Saturday May 4, 2019 from 11 a.m. to 2 p.m.
The Rosie the Riveter/WWII Home Front National Historical Park was established in Richmond, California in 2000. This National Park tells the story of the Kaiser Shipyards in Richmond which produced Liberty ships during World War II with the largest number of people in the history of our country working at war jobs out of a sense of patriotic duty. During World War II six million women entered the workforce and became known as "Rosie the Riveter". Her "We Can Do It" motto came to symbolize all women workers. Three "Rosies" from the National Historical Park met with visitors at Peña Adobe and shared their stories. Kay Morrison was a Journeyman Welder from 1943-1945. Marian Sousa was a Draftsman during 1943-1944 and Marian Wynn was a Pipe Welder from 1944-1945. All three "Rosies" left their homes to find wartime work at the Kaiser Shipyards in Richmond, California.
The Kaiser Shipyard produced over 700 Liberty Ships. One such ship, the SS Jeremiah O'Brien is one of two remaining fully functional Liberty ships of the 2,710 built and launched during World War II. . Moored at Pier 45, Fisherman's Wharf, she is a premier San Francisco attraction. Larry Serkanic from the SS Jeremiah O'Brien joined the "Rosies" to answer questions about how sailors braved the harshest of high seas and threat of enemy attack almost seven decades ago,
Also on hand were members from Solano Classic including Don Kidder and his 1938 Buick Roadmaster, Ken Paules and his 1940 Chevy Coupe and John Ramacis and his 1932 Ford Roadster. They met park visitors under the old oak tree in front of the Peña Adobe. Since 1994 club members have been dedicated to the restoration and preservation of classic vehicles. They encouraged everyone who has a classic car or is interested in cars to join their meetings every 2nd Thursday 7pm, at Denny's, 2980 Travis Blvd. in Fairfield.
Steve Fullbright from the American Armory Museum, which opened on May 28, 2016, shared the museum's WWII Dodge Command Car for Peña Adobe park visitors to see. Joining Steve was fellow docent, dressed in WWII uniform, Ray Raygoza, who shared museum items from WWII. The Armory Museum is conveniently located off of Highway 80 at 4144 Abernathy Road in Fairfield. WWII vehicles, including General Patton's Jeep and motorcycles on display, both on loan or part of the museum's permanent collection.
About 180 visitors enjoyed a fun day at Peña Adobe Park learning about the brave men and women from WWII!