Sculptor William Gordon Huff's Son Visits Peña Adobe Park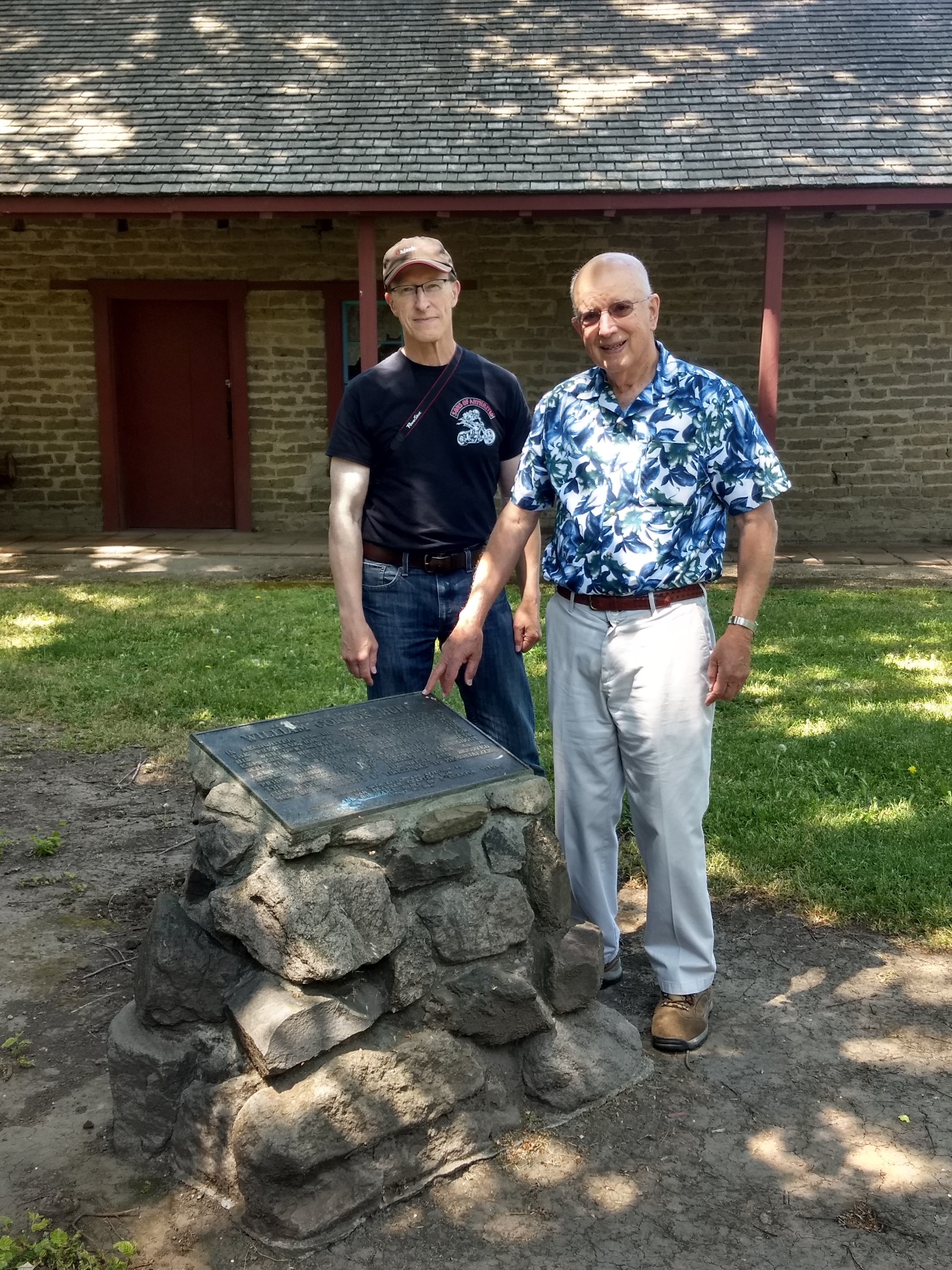 Dave Smith & Tim Huff, son of William Gordon Huff
In 1933, a Commission for the California Division of Parks was formed to oversee competition for a statue of Chief Solano. The five-member commission included William E. Colby, Henry W. O'Melveny, Mrs. Edmond N. Brown, Joseph R. Knowland, and Laura E. Gregory. The state appropriated $5,000 and the Massasoit Tribe of the Red Men of Fairfield raised $500.
Sculptor William Gordon Huff entered and won the competition on Feb. 15, 1933. He quickly went to work sculpting the 12-foot version of Chief Solano that was cast in bronze by the Jerome Foundry in Oakland. The monument was finally completed and the Solano County Band opened the dedication ceremonies with a concert on June 3, 1934, followed by a parade of tribes and councils in costume led by the Wahoo Drum Corps of Concord. The ceremonies were attended by several thousand spectators.
Solano's statue remained at the location on a small knoll near the CHP truck scales on today's Interstate 80 west of Fairfield until 1938. Vandals damaged the magnificent sculpture so the decision was made to move it to its present location in front of the old library building on the corner of Union and West Texas streets in Fairfield.
William Gordon Huff was a great California sculptor whose work included the 1939 World Fair's Tower of the Sun, the Court of Flowers and the Arch of Triumph. In 1967 Huff finished a donor plaque for the Peña Adobe, which marks the entrance to the Peña Adobe Park. A 1969 plaque at Peña Adobe is dedicated to the Native Americans who once lived on the grounds. The plaque is mounted on a large rock atop the burial mound just behind the Mowers-Goheen Museum. In 1974 Huff completed a plague dedicated to pioneer families which is located at the pioneer grave site at Peña Adobe. Huff made a memorial plaque for his good friend, Rodney Rulofson, who was the first curator for Peña Adobe park in 1976.
Tim Huff, son of William Gordon Huff visited the Peña Adobe Park recently with Dave Smith of Berkely's UC Museum of Paleontology (UCMP). Dave has spent years researching material for a web-based project on the life and art of sculptor William Gordon Huff. You can find The Art of Sculptor William Gordon Huff at https://ucmp.berkeley.edu/about/history/huff/index.php and learn more about the creator of the statue of Chief Solano, also known as Sem Yeto, our county's namesake and the centerpiece of the Solano County seal.