Solano County Sheriff's Posse and K9 Unit Visit Peña Adobe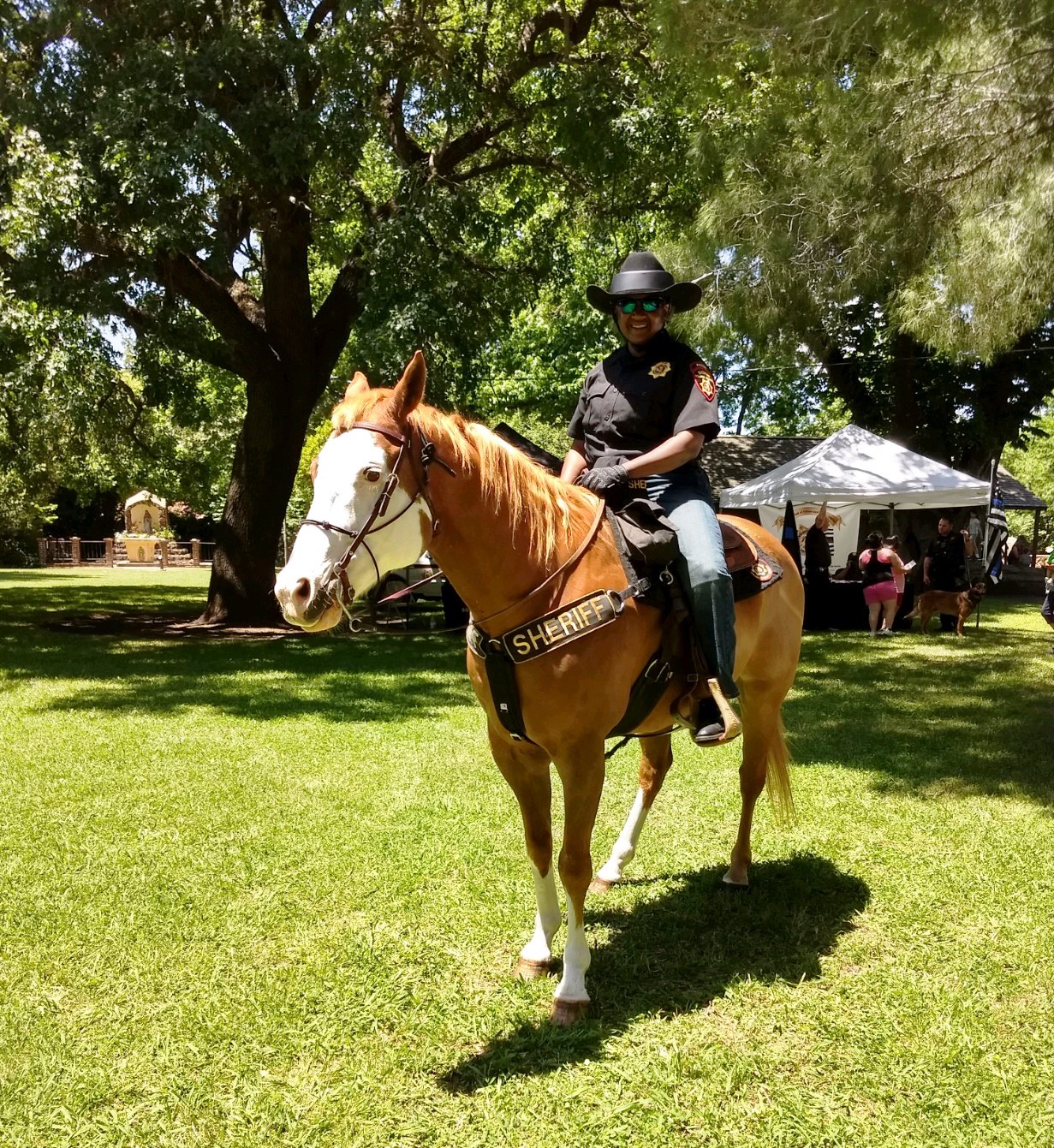 Robin Turner and Scout at Peña Adobe Park
Solano County Sheriff's Department Volunteer Coordinator Charles Lee and volunteers from the Solano County Sheriff's Posse Ron Turner and Robin Turner with her horse "Scout" visited with over 160 visitors at the Peña Adobe Park on Saturday, June 1, 2019 from 11 am to 2 pm. Joining the Posse were Deputy Cully Pratt and Deputy Tyler Pierce with "Tango" from the Solano County Sheriff's K-9 Unit.
The Sheriff's Posse has enjoyed a long-standing tradition of service with the Sheriff's Office since 1947. Comprised of citizens who volunteer their time in the service of their community, each year members of the Sheriff's Posse contribute thousands of hours of their time, the use of their horses and their equipment in support of the Sheriff's Office. Members of the Sheriff's Posse attend numerous community events each year as ambassadors for the Sheriff and as an example of how beneficial partnerships with the community can be for law enforcement.
Established in 2002, the Solano County Sheriff's Office K-9 Teams participate in public demonstrations, visit schools to promote drug awareness, and neighborhood watch meetings, as part of the Community Oriented Policing Program. K-9 Teams assigned to the Patrol Division are routinely called upon to assist in locating and apprehending fleeing criminal offenders, search vehicles for hidden narcotics/explosives, narcotic related search warrants, and to assist local, state and federal agencies.
Visitors enjoyed music provided by the Vacaville Acoustic Jammers and learned the important role horses and dogs played when the Peña and Vaca families were raising cattle on their ranch on what was to become the city of Vacaville. Park docents led tours the Peña Adobe, California historical landmark #534 built by the Peña family in 1842.