The Peña Adobe Historical Society Welcomes 2023!
Happy New Year!
2022's challenges were many but as the COVID-19 directives lifted we were able to expand our calendar of events this year. This summer we were able to participate with the City of Vacaville's Camp Adobe. During the ten-week summer program the Peña Adobe Historical Society hosted over 307 campers as they toured the Peña Adobe and visited with guests from Cal Fire, the Solano County Sheriff's Posse, and animals from the Pretti Rang and Zingler Ranch animal sanctuaries. Other activities included making corn husks dolls, learning chores like laundry and making butter as they did in the 1800's. We finished summer camp with a visit from the California Pioneer Heritage Foundation!
During 2022 we hosted five open house events visited by just over 1000 park visitors. We began with "Kids Day at the Adobe" in April "Western Day" in May, and in June "Native American Heritage Day" which welcomed members of the Wintun, Apache, Miwok and Yaqui tribes. In September we welcomed the "Buffalo Soldiers and the Solano County Sheriff's Posse" and we finished our season in October with a celebration of "Hispanic Heritage Month" with dancers of Folklorico Juvenil Danzantes Unidos and whip Master Francisco Pulido and his horse "Pirate"!
During 2022 we also focused our attention to the Willis Linn Jepson Memorial Garden, named after local famed botanist Wills Jepson. The garden was established years ago by Bob Allen, founding member of the Peña Adobe Historical Society. The garden had been left unattended for a number of years. Members of the Putah Creek Council Native Plant Nursery, California Native Plant Society and the Solano County Master Gardeners, led the restoration effort. In October, the park re-dedication of the garden was attended by Anna, Susan, Dana and grandson Nick, out of town children of Bob Allen, who passed away in 2016, to celebrate their father's vision of a garden filled with historic native plants.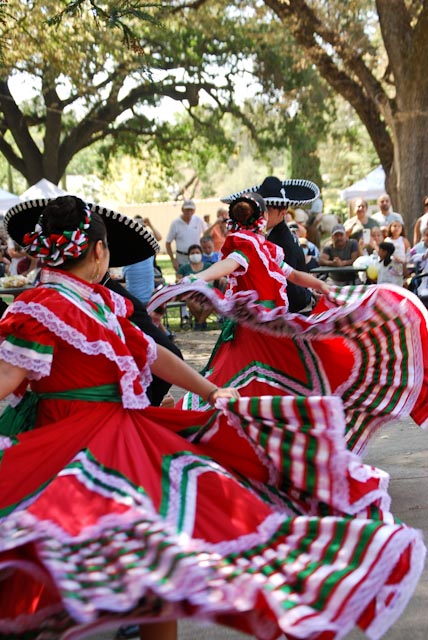 Dancers at Peña Adobe during Hispanic Heritage Month Celebration!
Location:
Business Office
618 E Main Street
Vacaville, CA 95688

DRIVING DIRECTIONS
Contact Info:
Peña Adobe Historical Society
(707) 447-0518
Our research team contacted Robert Krueger Director of the UC Riverside Citrus Variety Collection about the history of the orange tree at Peña Adobe Park. Work at Riverside's collection includes gathering, maintaining and preserving germplasm of citrus and dates. Robert Krueger visited the Peña Adobe and collected buds from the orange tree to graft to root stock. Before returning to Riverside with buds to add to the collection. he agreed, the tree, originally a gift from Peña's neighbor, John Wolfskill could have been planted as early as 1864.
This year we will focus on some much needed repairs to the adobe, so look for us in the spring when we plan to reopen the Peña Adobe and Mowers-Goheen Museums for tours from 11:00am – 2:00pm. For now, you can enjoy our local history by visiting the following sites:
https://www.facebook.com/PenaAdobeHistoricalSociety/
https://www.youtube.com/channel/UCz6FUK7KdnkF5p53_PpieOQ
Until we can welcome you back to the Peña Adobe, we want to thank you for all your support during this, yet another challenging year. Without friends, supporters and donors, we would not be able to continue the work of preserving the Peña Adobe, California Historical Landmark #534.
From all of us at the Peña Adobe Historical Society, Happy New Year!