"Kids' Day at the Adobe" Saturday, May 6, 2023 11:00am-2:00pm
The Peña Adobe Historical Society will host "Kid's Day at the Adobe" at the Peña Adobe Park in Vacaville, on Saturday, May 6, 2023 from 11 a.m. to 2 p.m. originally scheduled for April 1st and cancelled due to current parking lot conditions from the recent wet weather.
Come see the historic Peña Adobe, one of the oldest structures in Solano County. Dating back to 1842, the Adobe was once the home of the Juan Felipe Peña family, who with the Vacas, settled in Vacaville over one hundred eighty years ago. Meet Peña family member descendents! Stop in the adjacent Mowers-Goheen Museum, and see local artifacts that include Peña family children's toys and a woolly mammoth bone!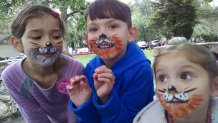 Don't forget to get your face painted at Kids' Day at the Adobe!
Location:
Peña Adobe Park is located at 4966 Pena Adobe Road in Vacaville's rural southwest section, just off Interstate 80 to the left of Lagoon Valley Regional Park entrance.

DRIVING DIRECTIONS
Contact Info:
Peña Adobe Historical Society
707-447-0518
There will be lots of fun activities, including grinding corn on authentic mortar and pestles. Learn how the early settlers made butter! Make a corn husk doll to take home! Our Native American Park Docents Armando Perez and James Tunstall will be speaking with park visitors of the Native Americans who lived here before the Peñas and Vacas arrived in the Lagoon Valley.
Sue Chan from California Education Through Animals (CETA) Foundation will be joining the fun! Chan will bring a few animals from her Phoenix Ranch on Midway Road while she chats with park visitors about her new book "The Whisperers' Way" for teaching and healing children and animals through knowledge, wisdom and heart. Proceeds from her book supports the non-profit mission of CETA Foundation/Phoenix Ranch.
Bring a picnic lunch to enjoy under towering oak trees and listen to the music of the Vacaville Jammers, directed by Terry and Leslie Cloper, the Jammers sing and play a variety of instruments, including guitar, banjo, mandolin, fiddle, and harmonica.

This event is free! There is no charge for admission to the park, adobe or museum. For questions call (707) 447-0518. If you have a passion for local history and are interested in tours, volunteering, or more information, e-mail us at penaadobe@gmail.com.