Día de los Muertos is a traditional Mexican holiday that the City of Vacaville wishes to honor this year. Come have a good time and learn about the cultural aspects of this celebration!
Dia de los Muertos, also known as Day of the Dead, is a Mexican holiday generally observed Nov. 1 and 2 to coincide with All Souls' Day. The holiday is festive and will feature Folklorico Juvenil - Danzantes Unidos de Vacaville performing traditional folkloricao dances, and music by Los Cochinos.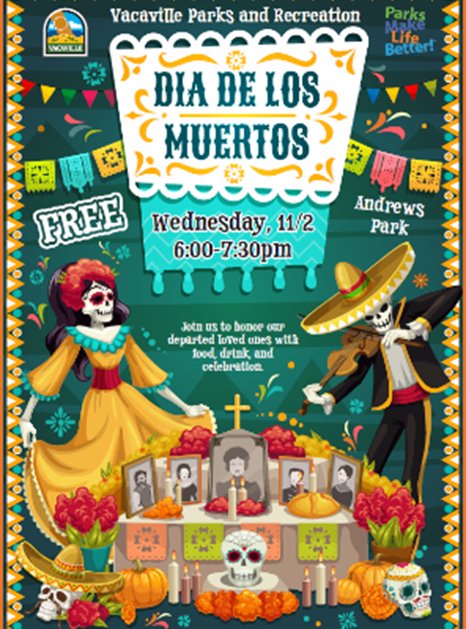 Location:
Andrews Park
614 E. Monte Vista Ave, Vacaville
Contact Info:
CityofVacaville.gov/events.
The Pena Adobe Historical Society and Vacaville Heritage Council will have booths and share local historical history. Food vendors will be serving tamales, Mexican hot chocolate, and esquites, pan de Muerto, "bread of the dead".
This an opportunity to honor loved ones with food, drink and celebration. Bring photos, marigolds and electric candles to decorate the makeshift altar.
This free event will be held rain or shine 6 to 7:30 PM. Wednesday, November 2nd at Andrews Park, 614 E. Monte Vista Ave.