Al Stewart 04/29/1940-12/02/2021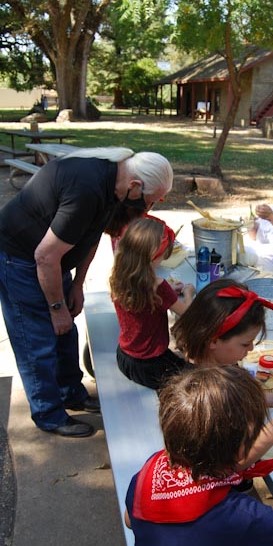 Al with campers making corn husk dolls at Camp Adobe 2021.
It is with sadness and regret that we announce the passing away of Al Stewart, friend and volunteer of the Peña Adobe Historical Society and husband of fellow volunteer, Darlene Coombs Stewart, a fifth generation Peña descendant
Al was an active docent at our monthly open house events helping to set up EZ-ups, tables and chairs and then mingling with park visitors. Al often joined the Peña cousins Darlene, Cecelia Peña and Leo Huitt as they shared stories of their amazing family, who with the Vaca family settled here in 1842.
When the City of Vacaville requested Society members move the contents of the Adobe to storage to begin restoration work, one early August morning, Al was one of the first volunteers to arrive, ready to work.
He was also an important contributor during Camp Adobe. Each summer Al could be seen, with his long white ponytail, towering over the campers making corn husk dolls!
We will miss Al's presence at the Peña Adobe as we continue to share the Peña family history with area residents.
All of us at the Peña Adobe Historical Society extend our deepest condolences to Al's family.