Buffalo Soldiers & Solano County Sheriff's Posse Visit Peña Adobe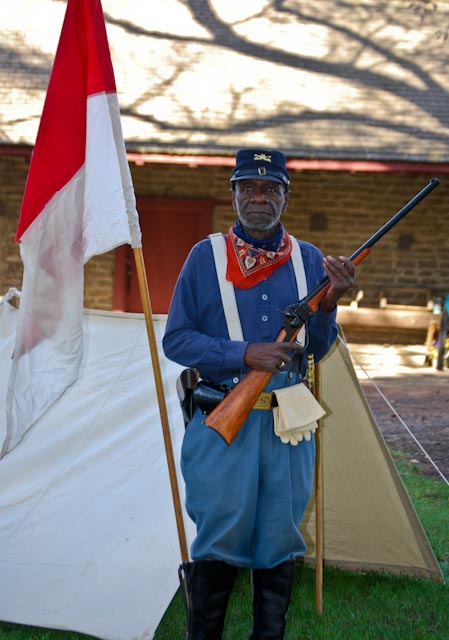 Buffalo Soldier of the Northern California 10th Calvary at Peña Adobe
Company G of the 10th Cavalry, better known to history as the Buffalo Soldiers, rode out of western history and into Peña Adobe Park on September 3rd.
They were joined by the mounted volunteers of Solano County Sheriff's Posse and their horses at the Peña Adobe for the monthly open house.
The Buffalo Soldiers are a living history group that was established in the Sacramento area almost 30 years ago. The group recreates the black cavalry units that served in the Old West from 1866 to 1891. The black cavalrymen were given their nickname by the American Indians because the black men's dark hair was so similar to the buffalo's winter coats and the color of the cavalrymen's skin.
Company G's goal is to tell the story of the Buffalo Soldiers' history visiting schools, community organizations, churches and public events. They had two tables with artifacts of the buffalo soldiers' history on display and members were dressed in the uniform of that time.
The Sheriff's Posse has enjoyed a long-standing tradition of service with the Sheriff's Office since 1947. Comprised of citizens who volunteer their time in the service of their community, each year members of the Sheriff's Posse contribute thousands of hours of their time, the use of their horses and their equipment in support of the Sheriff's Office. Members of the Sheriff's Posse attend numerous community events each year as ambassadors for the Sheriff and as an example of how beneficial partnerships with the community can be for law enforcement. Members from the Solano County Sheriff's Posse Robin Turner with her horse "Scout", Marshall and his horse "Dude", Chris with "Wyatt" and Anastasia and "Chica" visited with over 200 visitors at the Peña Adobe Park.
Under the direction of Terry and Leslie Cloper, the Vacaville Jammers provided music while park visitors learned the history of the Buffalo Soldiers, the important role of horses in history and met descendants of one of the first settlers in Vacaville, the Peña family!