Camp Adobe!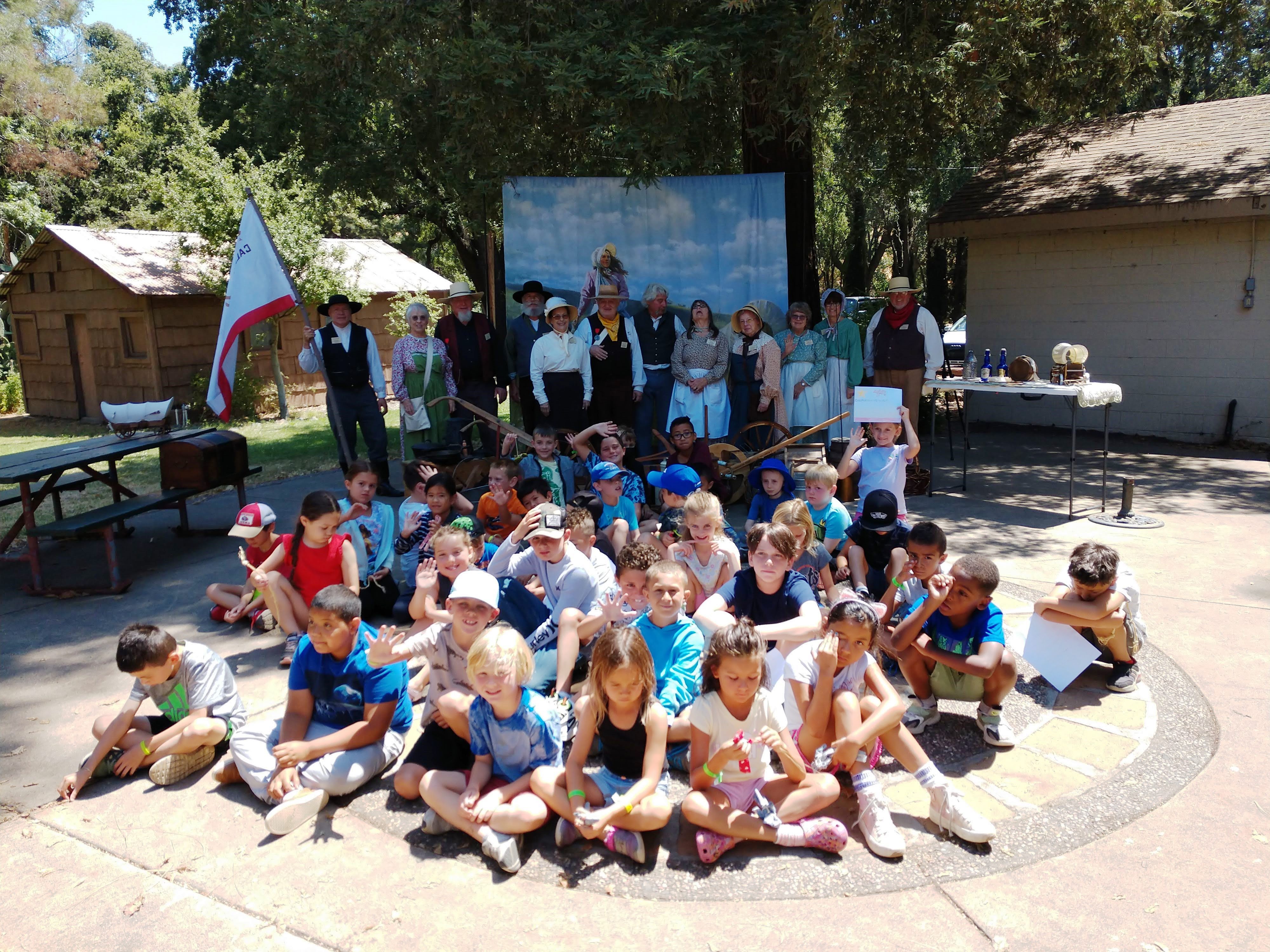 Camp Adobe Campers with members of Californa Living History
Image Gallery
Outdoor adventures abounded at this old fashioned summer day camp provided by the City of Vacaville's Community Services Department. Held at the historic Peña Adobe Park during summer vacation, Historical Society docents lead campers on tours of the historical grounds and conducted activities under tall oak trees. Campers enjoyed exciting and unforgettable fun and made lasting friendships.
During the ten week summer program, 307 campers learned of the Peña family and their journey to the Lagoon Valley from the New Mexico Territory. They traveled with the Vaca family, for whom the City of Vacaville is named during the pre-gold rush period. Before the arrival of the Vaca and Peñas in 1841, Native Americans living here were members of the Wintun tribe. Campers experienced grinding corn with authentic mortar and pestles, learned how to use Native American pump drills to make shell necklaces, and made corn husk dolls while learning about the local Wintun. Campers also learned how the early settlers made rope and butter.
Other highlights included firefighters from Cal-Fire who brought a fire engine for campers to see and learn about fire safety. Their visit included each camper holding the fire hose and releasing water! The Solano County Sheriff K9 team stopped by to share the important work they do. K9 team members Danny and "Duke" and EJ and "Argo" and campers played fetch!
During another week, campers were treated to a visit from California Living History group who showed campers how to make dolls from fabric, how to use quill pens an ink and each camper got to taste hardtack, a type of dense biscuit made from flour and water, eaten by the settlers in the 1800's! Campers visited animals from local ranches including goats from McQueeney Goat Ranch and Baxter the sheep and Precious the llama from the Lucky Ones Animal Sanctuary. Local animal lover Alexis Joseph brought her horse "Marty" to visit with campers and we finished the year with a visit from Missy from the Zinger Ranch Farm Sanctuary who brought a goose, Penny the goat, a chicken named Josephine and Keanu the rooster to visit with the kiddies!
It was a great Camp Adobe this year, we look forward to next year!