Camp Adobe - Adventure Camp!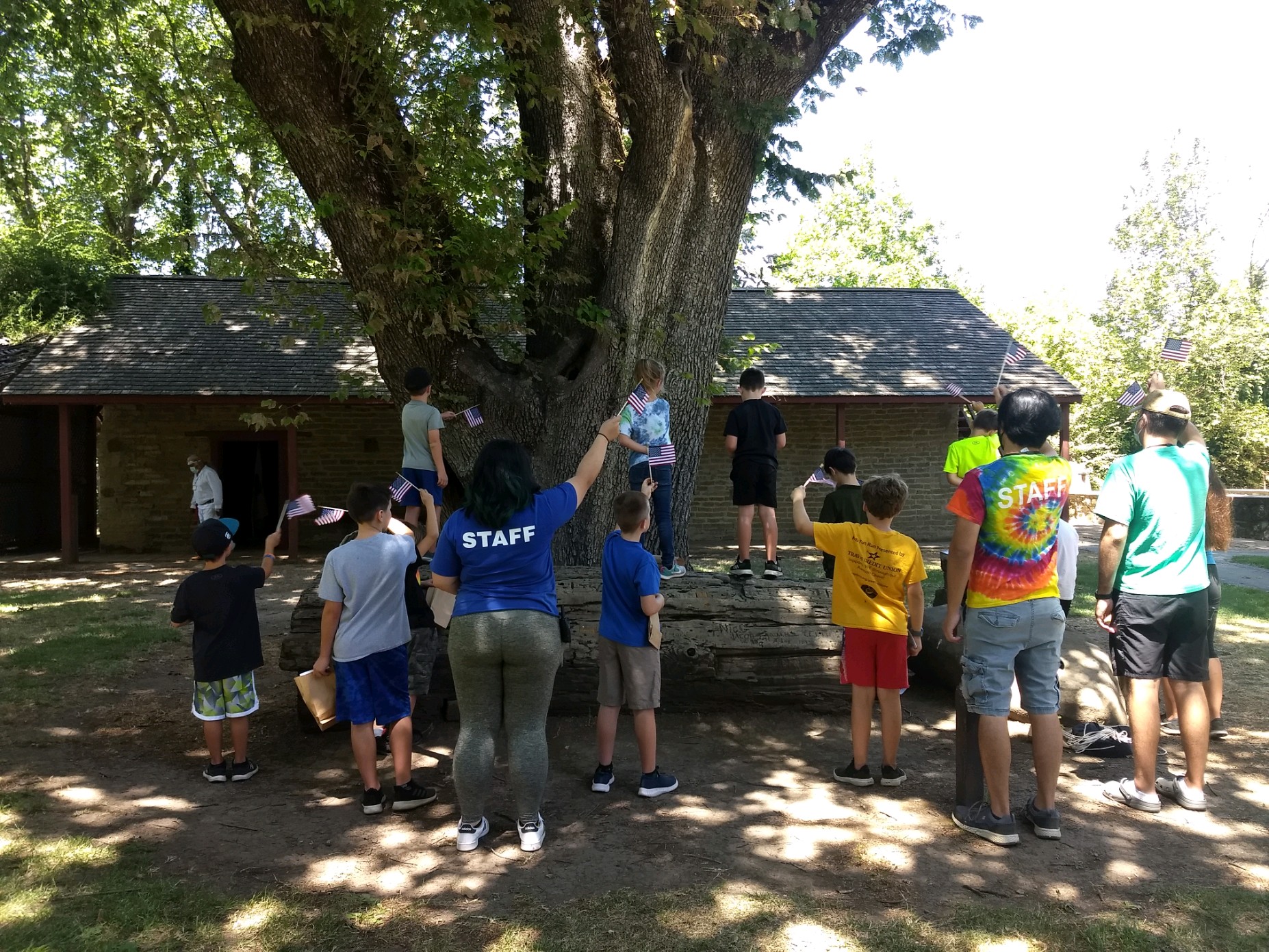 Camp Adobe Campers waiving good by to Peña Adobe. See you next year!
Outdoor adventures abounded at this old fashioned summer day camp provided by the City of Vacaville's Community Services Department. Held at the historic Peña Adobe Park during summer vacation, campers enjoyed an exciting and COVID-19 safe environment for unforgettable fun. Campers took part in unique experiences and adventures, built self-esteem, developed interpersonal skills and made lasting friendships.
This year's Camp Adobe was different from years past. Campers were limited to just 20 per day, social distancing and temperature checks were just some of the changes.
Historical Society docents lead campers on tours of the historical grounds and conducted activities under tall oak trees.
During the ten week summer program, 178 campers learned of the Peña family and their journey to the Lagoon Valley in 1841 and how they traveled with the Vaca family, for whom the City of Vacaville is named, from the New Mexico Territory during the pre-gold rush period. In addition, campers experienced grinding corn with authentic mortar and pestles, made corn husk dolls, and learned to sign their names with authentic quill pens.
Solano County Sheriff Ryan Wallace stopped by to visit with campers with his K9 partner Ted! Campers also visited with animals including a goat, quails and with horses from Vacaville's Ranchotel. Ranchotel Horse Center, built in 1970 in an area just west of Vacaville known as Lagoon Valley, is a full service equestrian center serving all of Solano County and offers a wide variety of riding lessons. Kathy Thatcher of the Horse Center shared with campers the important role horses played when the Peña and Vaca families were raising cattle on their ranch on what was to become the city of Vacaville.
There was a different adventure each week including exploring the outdoors with hiking, nature walks, craft making, and other exciting camp activities. Fifth generation Peña family member, Darlene Coombs Stewart shared her family's heritage and Historical Society member Armando Perez spoke of the Native Americans who resided here long before the Peña & Vaca families arrived.
It was a great socially distant, temperature checking Camp Adobe this year, we look forward to next year!