Kids Day at the Peña Adobe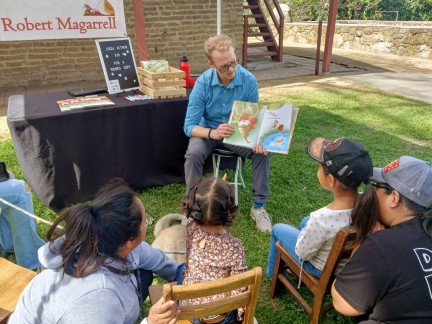 Local author Robert Magarrell reads excerpts from his book "Mr. Cat and the Mat" to Peña Adobe Park visitors.
The Peña Adobe Historical Society hosted "Kids Day at the Adobe" at the Peña Adobe Park in Vacaville, on Saturday, April 2, 2022 from 11 a.m. to 2 p.m.
Fun activities included acorn grinding on authentic mortar and pestles, making corn husk dolls, learning about our local Native Americans and testing their calf roping skills! Over 350 park guests visited with McQueeney's Goat Ranch! The McQueeneys have been raising goats for over 10 years and were happy to share their gentle, sweet natured goats with us! Park visitors learned how goats provide a natural and organic way to clear land of overgrown brush and invasive plants without harming our environment!
Robert Magarrell is a family man, and kid at heart, who finds joy in the small and simple things in life like playing his harmonica. Magarrell's book "Mr. Cat and the Mat" is first in a series of Mr. Cat stories. The focus of his story centers on teaching a valuable life lesson to children with rhyme and humor. It's a fun book for kids to read with wonderful illustrations by Easter Joyce Diaz. Children enjoyed Magarrell's readings of his book and he even signed copies during the "Kids Day" event.
Many park visitors brought a picnic lunch to enjoy under towering oak trees and listened to the music of the Vacaville Jammers, directed by Terry and Leslie Cloper. The Jammers sang and played a variety of instruments, including guitar, banjo, mandolin, fiddle, and harmonica.
We hope to see you next year at our annual "Kids Day at the Adobe"!