Little Bear 08/05/1935 - 02/05/2023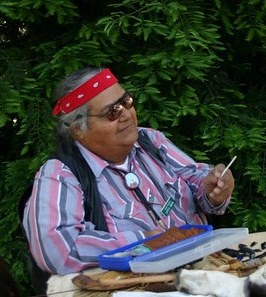 Peña Adobe Historical Society Long Time Volunteer, Little Bear.
Image Gallery
Once again, it is with sadness that we must inform you of the passing away of another friend and volunteer at the Peña Adobe Historical Society, Nieves Little Bear Sira.
Little Bear spent many years volunteering at the monthly open house events at the Peña Adobe. He would often be found chatting with park visitors about Vacaville's history and his Native American Apache heritage. He spent many years at Rush Ranch in Suisun as docent for the Patwin program, teaching hundreds of children of the local Wintun.
Each year at the City of Vacaville's "Kidsfest", Little Bear would staff the Peña Adobe Historical Society booth with fellow volunteer Virgil Sellers, as they shared Native American tools and artifacts with local children. As a young boy, Peña Adobe volunteer James Trunstall, remembers Little Bear visiting Vacaville's Opportunity House and teaching the children Native American heritage with arts and crafts. In recent years Little Bear relocated to Ukiah where he continued his important work of educating and sharing Native American culture at the Grace Hudson Museum.
We will miss Little Bear at the Peña Adobe. Please join all of us at the Peña Adobe Historical Society as we extend our deepest condolences to his family.