Peña Adobe Historical Society celebrates "Native American Heritage Day at the Adobe"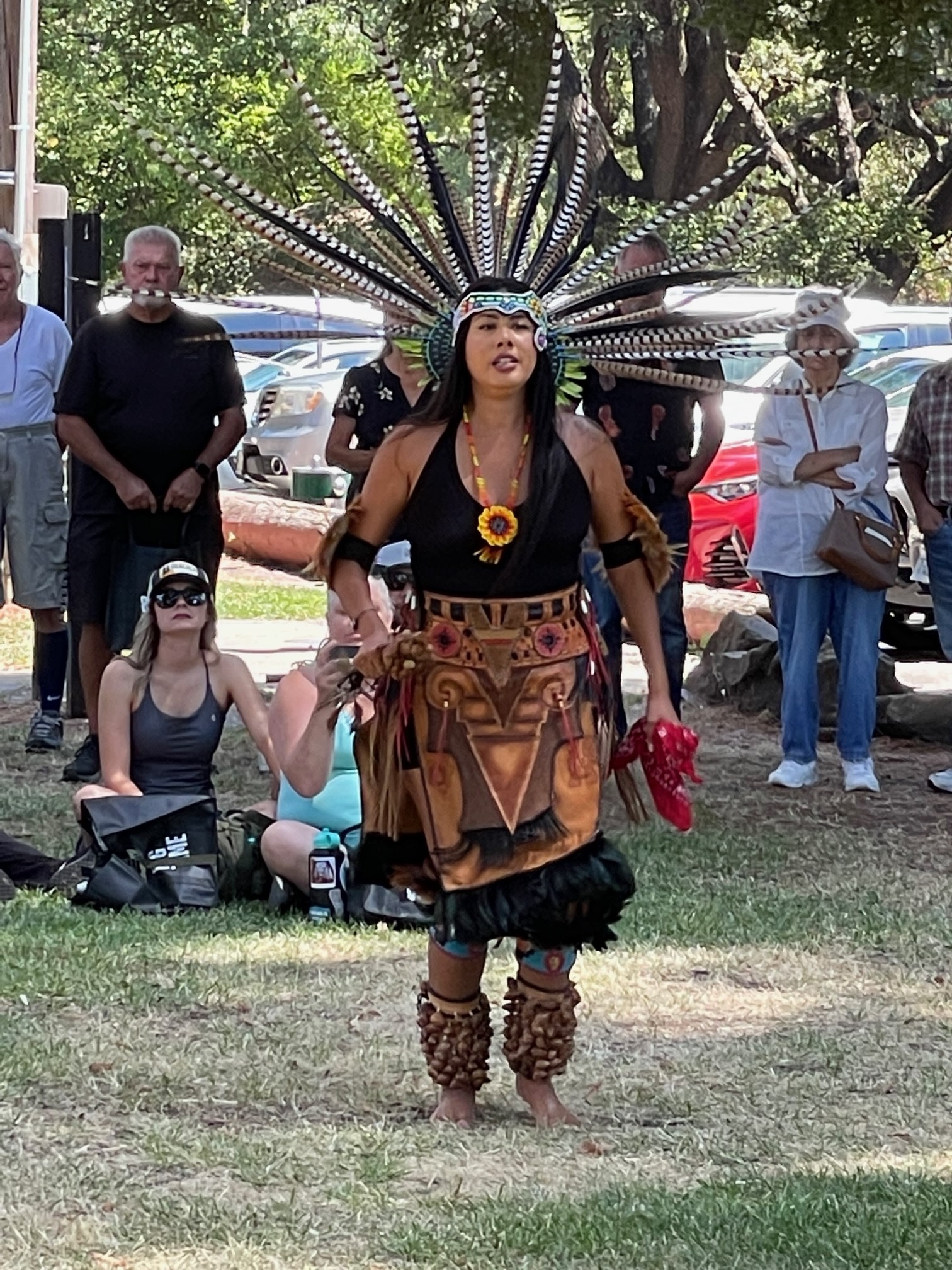 Kalpulli Anahuak Aztec Dancer performing at Peña Adobe.
The Peña Adobe Historical Society celebrated Native American heritage on Saturday, August 5th from 11am - 2pm. Richard Burrill who has published seven books on Ishi, the last surviving member of the California Native American Yahi tribe spoke with park visitors about his work. Ishi was discovered in 1911 in Oroville, CA and was taken to UC Berkeley where anthropologists studied him. Burrill's newest book "Unvanquished: Ishi's Story of Survival, Resilience, and Forgiveness" details those first four months of Ishi's life in San Francisco from Sept. 4, 1911 to Dec. 31, 1911.
Joining Burrill, from the Cultural Resources Department at Yocha Dehe Wintun Nation was Rebekah Canavesio who gave away gift bags and literature about the important work the Yocha Dehe do.
Kaitlyn Scott Moxon, Artifacts and Exhibition Manager of the Vacaville Museum was on hand to share with guests the Vacaville Museum's mission which includes cultural and historical preservation for all of Solano County.
Miwok Tribal Elder, Marge Grow Eppard joined us for the blessing before welcoming the Kalpulli Anahuak Aztec Dancers, who recently danced at the 7 Generations Tribal Council Annual Summer Powwow at Solano College. The dancers demonstrated traditional Aztec dances for park visitors. Later in the program Chiricahua Apache, Armando Perez of Vacaville, danced the Crown Dance. Apaches performed The Crown Dance to protect the community from disease and enemies.
Children had an opportunity to make a corn husk doll, and shell necklace on a Native American pump drill while shoppers learned about Native American drums from Lakota descendant Richard Flittie.
Over 200 visitors enjoyed the festivities under towering oak trees and celebrated Native American Heritage Day at the Adobe mingling with local Native Americans of Yaqui, Wintun, Apache, Lakota and Miwok descent!