Robert Krueger of UC Riverside Visits Peña Adobe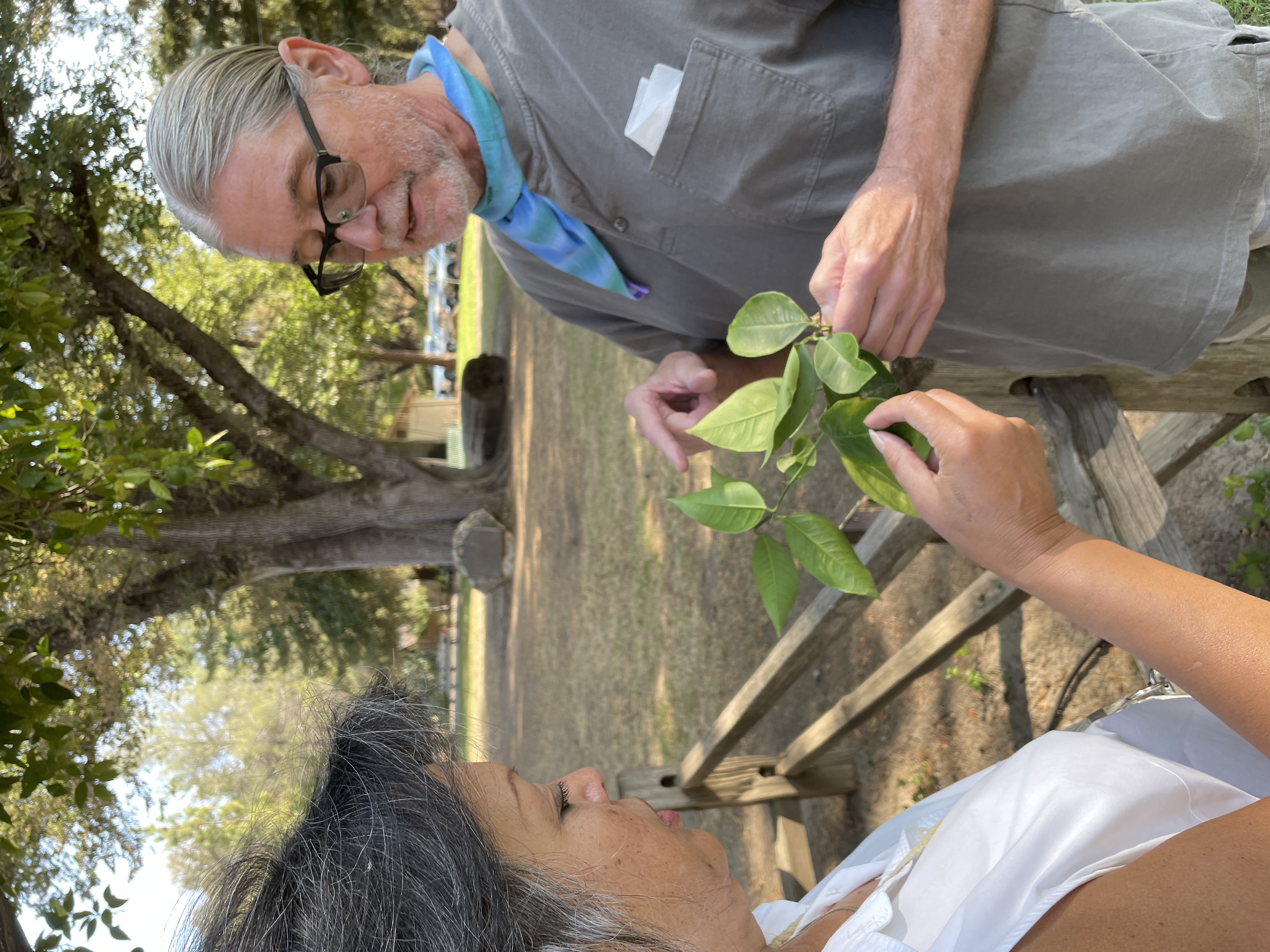 Robert Krueger, Curator and Research Leader from UC Riverside Citrus Valley Collection talks with Peña Adobe Historical Society volunteer, Cricket about the orange tree located at the Peña Adobe Park.
This year our research team has been working on the history of the orange tree at Peña Adobe Park. We contacted Robert Krueger, Curator and Research Leader from USDA-ARS National Clonal Germplasm Repository for Citrus & Dates in Riverside, CA to help us determine the year the tree was planted. The UC Riverside Citrus Variety Collection is an important collection of citrus diversity. Their work includes collecting, maintaining and preserving germplasm of citrus and dates. As the University already has stock from the oldest orange tree in California, planted in 1853 in Oroville, Krueger expressed and interest seeing this tree and adding it to the UC Citrus Collection.
While there were reports of oranges growing in 1793 at Mission San Diego, the first documented reference of oranges grown in California dates back to about 1804 at Mission San Gabriel.
William Wolfskill and George C. Yount arrived in southern California in 1831. Wolfskill eventually acquired land from the Mexican government where downtown Los Angeles now stands. By 1841 William Wolfskill planted a two-acre lot of un-named sweet oranges from seeds, perhaps from Mission San Gabriel or from seeds of Central America and Hawaii. In 1854 he planted another 500 trees and by 1858 had 1300 orange trees.
In 1842 William and his brother, John R. Wolfskill, were awarded a large land grant near what is now the city of Winters. John relocated to the northern California land grant and in 1860 he planted 30-40 sweet orange seedlings which he acquired from a recent visit to William's orchard.
Rose Peña Coombs, great granddaughter of Juan Felipe Peña, recalled family members reminiscing about John Wolfskill giving Peña an orange tree, which still thrives today beside the south wall of the Peña Adobe.
Robert Krueger visited the Peña Adobe and collected buds from the orange tree to graft to root stock. Before returning to UC Riverside, he agreed with Historical Society members, the tree could have been planted as early as the 1860's.