Vaca Family Descendants Celebrate 65th Family Reunion at Peña Adobe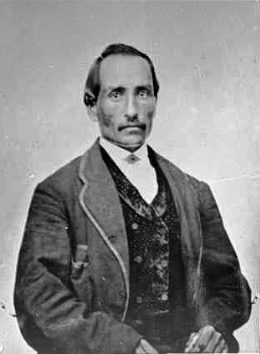 Juan Manuel Vaca, patriarch of the family reunion and namesake of the City of Vacaville
The Peña Adobe Historical Society shared Vacaville's rich history with 7th, 8th and 9th generation Vaca family members at Peña Adobe Park on Saturday, October 15th.
Descendants of Marcos Anastacio Vaca, the second oldest son of Juan Manuel Vaca, namesake of the City of Vacaville, returned to the former Vaca-Peña Los Putos Rancho, for their 65th Family Reunion Picnic. Guests included 96 year old Cecelia Pettis McElligott Maloney great, great granddaughter of Marcos Anastacio Vaca.
Guided by their father, Juan Manuel Vaca, Marcos Vaca and his seven brothers and sisters arrived in what became the Vaca Valley in 1841, traveling the three month journey from the New Mexico Territory with 65 travelers including Juan Felipe Peña and his family, who partnered with Vaca and built the historic Peña Adobe.
While the Vaca Adobe no longer stands, destroyed by the earthquake of 1892, the Peña Adobe served as background for the descendants to share their Vaca heritage with younger family members, as the Peña Adobe Historical Society recorded their oral histories.