Peña Adobe Historical Society Reopens with "Western Day at Peña Adobe", Saturday, August 7, 2021!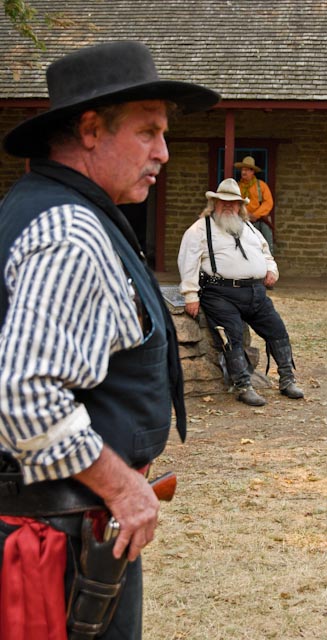 The Congressional Gunfighters of America visit Peña Adobe
Over 200 visitors were on hand Saturday, August 7th from 11 a.m. to 2 p.m. as the Peña Adobe Historical Society reopened after 17 months closure due to COVID restrictions, with "Western Day" at the Peña Adobe Park in Vacaville.
The Congressional Gunfighters of America, a professional re-enactment group that is dedicated to preserving Old Western history performed two shows for park visitors. The Club Members specialize in live entertainment and some have appeared in film, and on television. They utilize period correct costuming and weaponry.
Joining the day's event was Rush Ranch's blacksmith Joe Hoberg who shared his knowledge of horses & tools used in the 1840's with park guests. Music for the event was providing by the Vacaville Accoustic Jam from McBride Senior Center in Vacaville and everyone enjoyed a hotdog lunch, while docents offered tours of the Adobe, Museum and grounds.