Camp Adobe Adventure Camp at Peña Adobe Park this Summer!
Outdoor adventures abound at this old fashioned summer day camp provided by the City of Vacaville's Community Services Department for grades 1-6. Held at the historic Peña Adobe Park during summer vacation, campers enjoy an exciting and safe environment for unforgettable fun. Campers can take part in unique experiences and adventures, built self-esteem, developed interpersonal skills and make lasting friendships. This adventure camp is an exciting way to have an unforgettable summer of fun!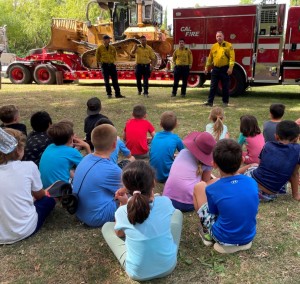 Capt. Matt, Capt. Mitch, firefighters Miquel and Brian from the Cal Fire Gordon Valley Station with Camp Adobe campers!
Location:
The park is located in Vacaville's rural southwest section at 4966 Peña Adobe Road, just off of Interstate 80, adjacent to Lagoon Valley Park.

DRIVING DIRECTIONS
Contact Info:
Peña Adobe Historical Society 707 447-0518
Peña Adobe Historical Society docents will lead campers on tours of the historical grounds and conduct fun activities each Wednesday from 9:30am - 11:15am.
This past week, Capt. Matt, Capt. Mitch, firefighters Miquel and Brian from the Cal Fire Gordon Valley Station brought a fire engine and bulldozer to Peña Adobe. Campers especially enjoyed the big giant bulldozer!
Firefighters also showed the children equipment they use to fight fires including the gear they wear and what they carry with them each time they go out to fight a fire. Campers felt just how heavy 100 pounds of equipment can be! Then they let each camper take a turn as a future fire fighter "manning" the fire hose, which was great fun!
Capt Matt brought stickers, coloring books and plastic fire hats for everyone. What better time to teach our campers about fire safety with our upcoming Celebration of Independence this July 4th.
Each weekly camp is Monday - Friday from 6:30am-6:00pm or 9:00am-4:00pm. Register at www.cityofvacaville.com/civicrec.