Pena Adobe Historical Society's Annual "Western Day" Saturday, June 3, 2023
The Peña Adobe Historical Society will host "Western Day at the Peña Adobe Park in Vacaville, on Saturday, June 3, 2023 from 11 a.m. to 2 p.m.
Come see the historic Peña Adobe, one of the oldest structures in Solano County. Dating back to 1842, the Adobe was once the home of the Juan Felipe Peña family, who with the Vaca family, settled in Vacaville over one hundred seventy five years ago. Stop in the adjacent Mowers-Goheen Museum, and see local artifacts that include Peña family heirlooms, children's toys and books from the turn of the century. See our collection of Native American tools and a woolly mammoth hind leg bone and tooth found in Putah Creek!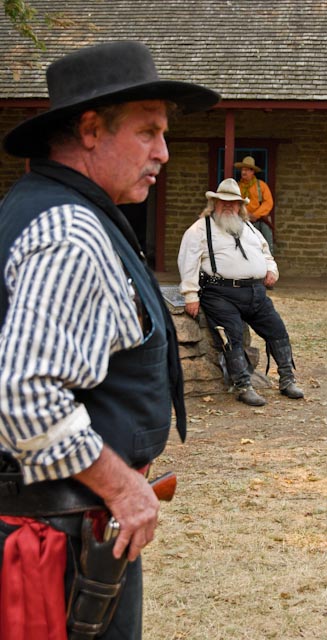 The Congressional Gunfighters of America at Peña Adobe
Location:
The Peña Adobe Park is located in Vacaville's rural southwest section, just off Interstate 80 adjacent to Lagoon Valley Park.

DRIVING DIRECTIONS
Contact Info:
Peña Adobe Historical Society
(707) 447-0518
Our guests will include the Congressional Gunfighters of America, a professional re-enactment group that is dedicated to preserving Old Western history. The Club Members specialize in live entertainment and some have appeared in film, and on television. They utilize period correct costuming and weaponry.
Joe Hoberg, Blacksmith volunteer from Rush Ranch will share with park visitors traditional blacksmithing tools and equipment. Guests can watch as steel is forged into items and take part in an interactive demonstration with smithy Joe Hoberg and his team.
Music will be provided by the Vacaville Acoustic Jammers under the direction of Terry and Leslie Cloper. Docents will offer tours of the Adobe, Museum and grounds. Enjoy a hot dog lunch and join the potato sack race! Stop by as the Peña Adobe Park welcomes back "Western Day"!
This event is free and there is no charge for admission into the historical park. Dogs are allowed on leashes. For questions in advance, call (707) 447-0518.